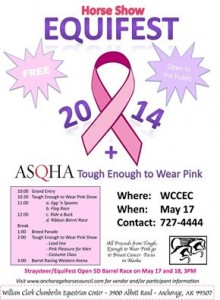 The Alaska State Quarter Horse Association is happy to announce the 2014 Equifest Horse Show, Tough Enough to Wear Pink. This event will take place this Saturday May 17th, at 10:00am. Cost is FREE and is open to everyone! Remember to wear pink to support Breast Cancer Awareness. Vendors will be present with foods, drinks, items to buy and more! There will be a parade as well along with many different horse races! This will be a fun positive event you will want to be apart of. Best of all, the proceeds made from the Tough Enough to Wear Pink will go to Breast Cancer Focus in Alaska. If you would like more information or would possibly like to donate visit www.asqha.com or call 907-727-4444.
Tough Enough to Wear Pink Horse Show will take place at William Clark Chamberlin Equestrian Center in Anchorage, Alaska; 3900 Abbott Rd.
For events taking place on the Kenai Peninsula click HERE.