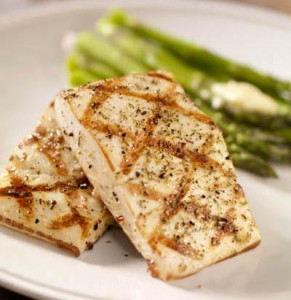 Planning on catching some Halibut this summer? You will love this Alaskan Cilantro Halibut recipe. This is a easy and fast recipe that takes approximately 40 minutes of prep time with an additional 15 minutes for cooking. Talk about fast! The corn flakes make a crispy coating over this baked Alaska halibut, with the cilantro giving it a tasty zest. You and your family will enjoy this meal.
INGREDIENTS
• 4 Halibut Fillets
• 1 cup Milk
• 3/4 cup Corn Flakes, crushed
• 1/4 cup chopped fresh Cilantro
• 1 tablespoon Dijon Mustard
• 2 teaspoons freshly grated Lemon Peel
• 1/4 teaspoon Salt and White Pepper (each)
INSTRUCTIONS
1. Preheat oven to 425 degrees. In a large ziplock bag, soak fish in milk for 20-30 minutes.
2. In a small bowl combine mayonnaise, cilantro, mustard, lemon peel, salt and pepper; mix well. Place halibut fillets in a lightly greased 13 x 9 x 2 inch baking dish. Evenly spread mayonnaise mixture over fillets, then top with crushed corn flakes.
3. Cook in oven for 15 minutes or until fish flakes easily with a fork.
Serve halibut on a plate with other delicious food items and enjoy!
Makes 4 servings.
For other great Alaskan Recipes or events taking place on the Kenai Peninsula click HERE.