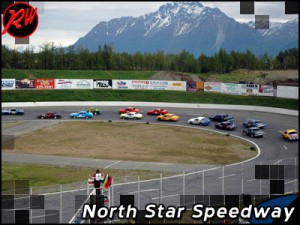 Its not NASCAR, but it's as close as you can get this far north! Bring family and friends to North Star Speed way located in Wasilla, Alaska. Come experience racing in Alaska and have hours of fun entertainment!
North Star Speedway is a safe, family-oriented destination fit for all your racing needs. With seating for over 3000 people, there will always be room for everyone. North Star Speedway features racing of the Legends cars, which were built in 1937 and 1940. American Race Trucks also compete here, and Driving School is available for those who want to race the trucks but haven't had any experience.
North Star Speedway opened on June 14th in 1997. It is situated on 40 acres of land and boasts scenic views of the surrounding Chugach Mountain Range and Pioneer Peak. Encircled by fields and forests, North Star Speedway brings you top-notch entertainment right in the heart of Alaska's outdoors.
In addition to the track and bleacher seating, North Star Speedway offers parking for 1,500 cars and a fenced-in playground. A full service kitchen and Budweiser Beer Garden are also available to the public. North Star Speedway is equipped with a Mackie Industrial/Community Sound PA system that allows you to get the most out of your experience. North Star Speedway is the speed central for racing entertainment and fun. Go online to view a schedule of races.
Location: 2151 Jensen Road
Palmer, Alaska
99645
To see what events are happening on the Kenai Peninsula click HERE.