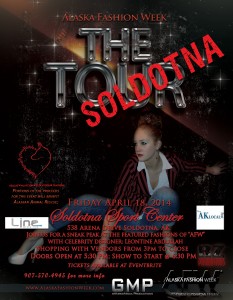 Style, glamour, and fashion do not easily come to mind when one thinks of the State of Alaska. Alaskans are not known for dressing well, in fact Anchorage was recently rated the worst dressed city. However CEO/President of Alaska Fashion Week, Dominick Liriano is determined to make that change. AFW announces that they will be hosting a Tour in our very own Soldotna, Alaska! This one day event will showcase the recent collections of a few chosen designers from the AFW 2014 show. Don't miss this rare opportunity April 18th, at 6:30pm!!
AFW was created after the city of Anchorage participated in an annual online poll with Travel and Leisure Magazine back in 2012. Many Anchorage residents were not happy with the results. The poll asked readers to rank 35 cities based on, nightlife, best New Year's Eve celebrations, and eating attractions. How did anchorage do against the other "stylish" cities? With a score of 3.06, Anchorage was rated America's worst dressed city right below Salt Lake City. What is it that makes us Alaskans "non-stylish", so to speak? Many could blame the weather, the cold outside, or even the high prices for clothing, but because of our location, we have the least exposure to fashion than the rest of the cities in the Lower 48.
By creating the Alaska Fashion Week, Dominick Liriano is bringing fashion, style, and confidence to the people of Alaska. He tells us that even though we live in cold weather, we can still dress classy and have style when we go out. HE IS RIGHT ALASKA!! The AFW Tour was set for those people who were unable to attend the 2014 Anchorage show. Portions of the Proceeds for the AFW Tour event will benefit the Alaskan Animal Rescue Friends (AARF). Come out and show your support and love for fashion by attending the Alaska Fashion Week Tour!
Event will take place on Friday April 18th, 2014. Doors will open at 5:30pm; show set to start at 6:30pm.
Event is located at the Soldotna Sports Center. 538 Arena Drive, Soldotna, Alaska.
For more events taking place on the Kenai Peninsula click HERE.