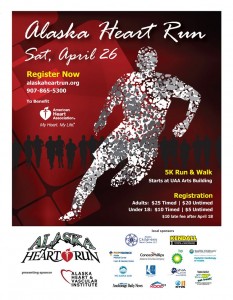 University of Alaska Anchorage Fine Arts Building will be having the Alaska Heart Run on Saturday April 26th at 9:30am. The Alaska Heart Run is one of the largest 5K races in Alaska, uniting serious and casual runners and walkers. Participants travel from across the state to participate in this fundraising event benefiting the American Heart Association which raises funds to aid in the fight against heart disease and stroke. Make a difference in your own life while raising funds to save others. Participants choose between the 5K timed/untimed event or 3K event. For 36 years the Heart Run has inspired Alaskans to stay on a heart-healthy path by staying physically active. Proceeds benefit the local American Heart Association. Presenting sponsor: Alaska Heart & Vascular Institute
The American Heart Association is the largest voluntary health organization working to prevent, treat and defeat heart disease, stroke and other cardiovascular diseases. These diseases, the Nation's No.1 and No.4 killers, claim more than 865,000 American lives a year. Thanks to all our walkers, donors and volunteers who have accepted the challenge to help fight heart disease and stroke. We cannot achieve our mission without each one of you!
Contact Number : (907) 865-5300
Price Untimed $20 adults and $5 under 18; Timed $25 adults and $10 under 18 yrs.
Age Suitability All Ages
Date/time: April 26th, 2014 at 9:30am.
Event is located at 3640 Alumni Drive, Anchorage Alaska.
For Events on the Kenai Peninsula click HERE.