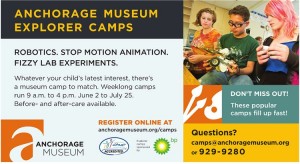 Its summer and that means school is out. Keep your kids active and engaged this summer at the Anchorage Museum's award-winning camps. Camps such as Robotics, stop motion animation, LEGO toys. Whatever your child's latest interest, there's a camp to match. Your child will have a blast learning and working together with other kids. They will want to keep coming back to this unique camp! These weeklong camps are for ages 6 to 15. Camp begins at 9:00am throughout the week.
Find a complete schedule and register online at https://www.anchoragemuseum.org.
Explorer Camps are located at the Anchorage Museum at Rasmuson Center on 625 C Street, Anchorage, AK.
For events taking place on the Kenai Peninsula click HERE.