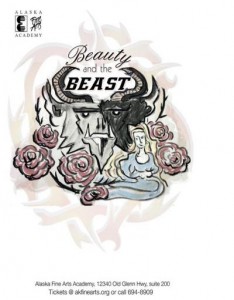 The Alaska Fine Arts Academy in Eagle River proudly invites you to watch the performance of Beauty & the Beast. One of the most cherished fairy tale stories, with a little twist! Local playwright Joe King has brought another classic fairytale to life with an even more interesting take. Going back to the time of the Brother's Grimm, this original adaptation will have you in your seats, deciding for yourself who are the Beauties and who are the Beasts. This action-adventure performance has got it all from a burly Beast, sword fighting, magic, chocolate, bugs, bodacious beauties, mishaps and more! All for your entertainment. Throughout the play Joe King takes us on a journey of character. He shows us life challenges and teaches us that how we handle these challenges can either turn us into bitter beasts or glamourous beauties. This is a show for the whole family to watch and take something from. Sometimes unfortunate events happen. Its how we overcome them and our attitude about the situation that will help us succeed. Come watch this classic fairytale story rein-acted in King's version!!
Event will take place on April 4th & 5th 2014 at 7pm. Admission will be $14.00 per person. Discounts can be given. Call for discount options.
Located at the Alaska Fine Arts Academy. 12340 Old Glenn Hwy, Eagle River AK
Contact Number:
Email: hollyzornlindsay@gmail.com
For events taking place on the Kenai Peninsula click HERE.