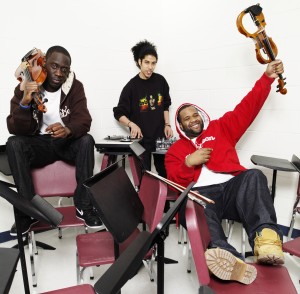 Black Violin is back! Join us at the Atwood Concert Hall and enjoy music as you've never heard it before! After their sold-out 2009 Atwood show, Black Violin returns to Anchorage, Alaska with their ultimate synergy between classical and hip-hop music.  As graduates of Dillard Performing Arts High School, Black Violin chooses strings over streets using funk driven sounds and a positive message to give young people the same exposure to the arts and, therefore, the same opportunities they had. This event will be fun for the whole family.
The name "Black Violin" is derived from the influence of a famous jazz violinist, Stuff Smith. Just six months before Smith's death, he recorded a solo album entitled Black Violin. The duo, Kev Marcus and Wil B, decided to name their group after the music of the most inspiring violinist they had ever heard. The two met while playing in the high school orchestra in Fort Lauderdale, Florida. Throughout the years the Group has traveled all over holding shows, playing at award ceremonies and many more events. Live, they are often accompanied by their band, featuring DJ-TK, the drummer Jermaine McQueen and cellist Joe Cello. Come to the Black Violin show at the Atwood Concert Hall and see just how talented this group really is!
The Black Violin show will be approximately 100 minutes including intermission. This will be an exciting show for kids of all ages, family and friends. Don't miss your opportunity to grab tickets!
Show will be on March 21st, 2014 at 7:30pm
Presented by the Alaska Junior Theater