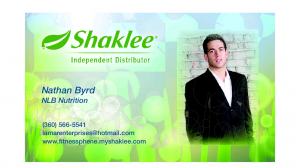 Traveling to the Kenai Peninsula and looking for an exciting event to attend?
Come find out what is so different about the #1 Natural Supplement Company in the U. S. Enjoy FREE smoothies, Snack Bars and watch us perform amazing demo's with our Organic Cleaning Products.
We are shedding light on the natural approach to controlling your health and making sure you are getting the exact amount of proper nutrition in your diets. Also we will have a portion of the class open for a Q&A to answer anyone's health related questions. There are limited spaces and they are going fast so make sure you RSVP.
This event is hosted by NLB Nutrition.
*Special Guest from Washington State, Master Coordinator Phylliss Newman.
*Special Guest from Wasilla Senior Coordinator Cheri Gumley.
For more information please contact Nathan Byrd; NLB Nutrition (360)-566-5541.
This event will take place on June 20th, 2014 from 6:00pm to 8:00pm. Location is set for the Aspen Hotel in Soldotna at address 326 Binkley Cir.
For more events taking place on the Kenai Peninsula click HERE.