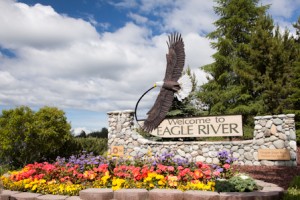 You and your family are invited to the 2014 Spring Tea Event. On April 26th 2014 come to the Community Covenant Church from 11am to 1pm for a fun filled afternoon! You can dress however you like! There will be a Man's Table set up for a silent auction. All proceeds benefit the landscape, maintenance and beautification of Chief Alex Park. This will be a great morning/afternoon!
Each year in the spring, the Chamber hosts its famous Spring Tea and the Friends of Chief Alex Park campaign. These funds, along with volunteer support from Alaska Military Youth Academy and Boy Scout Troops, Eagle River Boys & Girls Club & Chamber Ambassadors and friends keeps this one acre park in tip top shape offering a beautiful entrance into their business district. Funds from the annual Chamber Tea event support our park annual costs including insurance, electricity, water and park maintenance which rise every year.
This April event welcomes Alaskans into spring. The event pits all women's tea tables against one "man table" where hard hats replace bonnets. We suspect that flasks might be hidden in overalls, pizza is ordered and delivered during the event, and electric drills & elevated model trains are practical centerpieces. 
The Chamber uses themes to help with decorating ideas for the Tea Party. Some examples of past themes are "Rhythm & Blooms" and "Posies, Purses & Pearls". This year the theme is Tea Revives the World!!
This event will take place on Saturday April 26th, 2014 11am-1pm. Located at the Community Covenant Church on Artillary Road, Eagle River. Cost of admission is $25. To purchase tickets call 694-4702.
Come see what events are taking place on the Kenai Peninsula by clicking HERE.