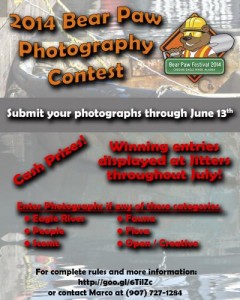 Calling all photographer!! The Eagle River Camera Club announces the 2014 Bear Paw Festival Photo Contest!! They are seeking entries from Alaskan photographers for different picture categories.
The categories are: Eagle River, People, Scenic, Fauna, Flora, and Open/Creative. The contest includes separate divisions for youth and adult.
Any color or black & white photograph taken in Alaska after Jan 1, 2013 is eligible if it has not been published or awarded a prize in any other photo contest.
There will be Cash prizes!
Submt entries n JPEG format to Gutierrez Photography, 11823 Old Glenn Hwy, Suite 107, Eagle River, 99577 by June 13, 2014 at 5:00pm.
For more information and complete rules,visit: http://goo.gl/6TilZc
For events taking place on the Kenai Peninsula click HERE.