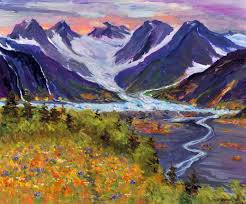 Alaska Fine Arts Academy presents artwork from our visual arts program. This exhibition of student artwork includes painting, screen printing, charcoal art, watercolor, drawings, prints and dinosaurs. Students have been working hard, mastering their creative art skills. They have brought you unique art work that will definitely captivate you. Come see what they have been working so hard on. See the different types of methods used by the different artists.
"Student Art Showcase" also features original artwork by Alaska Fine Arts Academy art instructor and artist Kenna Bates. "Musk Oxen to Mermaids: AFAA Student Art Showcase" opened with a free reception from 5 to 7 p.m. on Friday, May 2nd, at Alaska Fine Arts Academy. It will be open to view for the whole month!! This will be an art event good for the whole family!
Exhibits were set up to view on May 2, and will be showcasing thru May 31st, 2014.
Event takes place at the Alaska Fine Arts Academy on 12340 Old Glenn Hwy, Eagle River, AK 99577
For events taking place on the Kenai Peninsula click HERE.