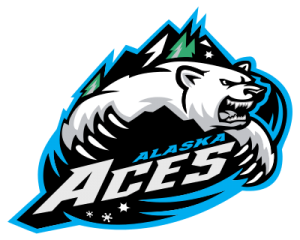 Calling all hockey fans!! The Alaska Aces HOME hockey season is coming to an end. You wont want to miss out on all the action. This Thursday, Friday and Saturday are the Aces FINAL regular season home games of the 2013-2014 season. Get your tickets now to cheer on the Aces as they take on the Colorado Eagles in their final 3 home games before an 11 game road trip to end the season! Home location for the Aces is at the Sullivan Arena, Anchorage, Alaska.
There are a limited number of $5 general admission tickets still available for Thursday.
On Saturday night, the Aces are hoping for the Luck of the Irish to be with them as they wear their final specialty jersey of the season. Don't forget to show that Irish pride and wear green! Also, Saturday is Boy Scout night! If you are a Scout, come to the game wearing your uniform and earn an Aces & Boy Scout patch. The Boy Scouts ask that you bring non-perishable food items with you to the Aces game.The Boy Scouts will collect all donations given at the game for the Food Bank of ALaska. This will be to help feed hungry Alaskans.
The puck drops at 7:15PM. Don't miss it!
Call the Aces ticketing department to get your tickets now – offer group rates and still have Power Passes for only $50 for 5 tickets! 258.2237 ext. 1
The Alaska Aces office is located at the Corner of 15th Ave and Gambell, Anchorage, Alaska.