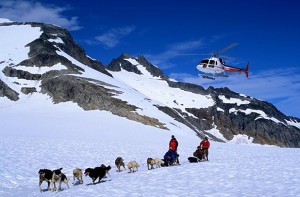 Ever wanted to go on a dogsled ride in the summer? If you live in the Anchorage area or are planning to travel there, you will want to check out Alaska Glacier Dog Sled Tour. Summer is the perfect season to take a ride, as the season's sun and winter fun unite for a wonderful time. Spend an hour with a team of Iditarod sled dogs and their musher. What an exciting experience!
A quick and scenery-packed drive, and an equally beautiful helicopter ride, gets you on a glacier, where dog teams and drivers await to take you on a wintery ride. Cool air, warm sun and snow in all directions – it's a winter wonderland in the middle of summer.
You can stand on the sled runners and drive the dog team yourself, or sit in the sled's "basket" and gain an appreciation for the strength of the dog team. No matter how you ride, be sure to admire the sparkling glaciers around you!
RATES: $499.00 per person, based on 2-person minimum. Discount for overnight guests of $25 p.p.
Child rate $449.00 valid for children 11 and younger if accompanied by at least 1 adult. Children under 2 are free on parents lap. For custom group quotes or more information about the tour call 877-745-4575 or email [email protected] To view their official website click HERE.
For events taking place on the Kenai Peninsula click HERE.