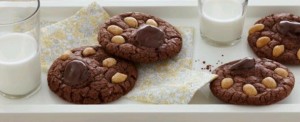 Looking for a tasty dessert to serve to your family this summer? Try making Bear Paw Cookies! These are super fast, easy and fun to make. And they sure do taste amazing! Make sure you have all of the following ingredients:
Serves: 3 Dozen
Ingredients:
-1 Cup butter or margarine — softened
-2/3 Cup sugar
-1/2 Cup chocolate flavored syrup
-2 eggs
-1 Teaspoon vanilla
2 1/3 Cups flour
-2 Teaspoons baking powder
-1 Teaspoon salt
-1/4 Cup milk
-peanut halves or cashews
Lets Get Started!!
First, mix 1 Cup of butter and 2/3 Cup of sugar in a large mixing bowl, until light and fluffy. Blend in 1/2 Cup of chocolate flavored syrup. Add eggs, 1 at a time beating well after each addition. Blend in 1 teaspoon of vanilla.
In a separate large mixing bowl combine 2 1/3 Cups of flour, 2 teaspoons of baking powder, and 1 teaspoon of salt. Combine both bowls with mixtures. Add dry ingredients alternately with milt to chocolate mixture, beating well after each addition. Cover and chill for 1 hour. Pre-heat oven to 375-F.
After mixture has been chilled, measure teaspoon sized amounts of dough, then space them evenly on a greased baking sheet. Press 4 peanut halves into each cookie. Bake at 375-F. for 10-12 minutes or until centers are done. Let cool on the baking sheet for 2 minutes.
Serve with a tall glass of milk or preferred beverage and ENJOY!!
For more great Alaskan Recipes or to check out events on the Kenai Peninsula click HERE.