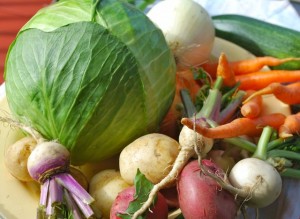 Experience an abundance of Alaskan grown farm fresh food and products in the Mat-Su Valley, Alaska! Scattered throughout the Mat-Su Valley are local Farmers Markets where people go to for fresh produce and other local made items. Live on the Kenai Peninsula? The Farmer's Market has no problem when it comes to bringing produce into town for others to enjoy. Throughout the summer, the locals living in Soldotna, Alaska can purchase vegetables, fruits, and more right outside the Blazy Mall. Come taste the difference between Alaskan Grown Produce and grocery store items that have been shipped here.
The mission of the Mat-Su Farm Market is to provide a market venue for area farmers and producers, to provide superior quality goods and foods and to provide a business basis for the Mat-Su Valley, Alaska. Mat-Su Farmer's Market also provides services to those in the Kenai Real Estate area.
One of the only Alaska communities to stem from an agricultural lifestyle is Palmer, Alaska . Palmer was established in 1916 for the Alaska Railroad's branch line to the Chickaloon coal mines. Development began to really pick up in 1935 during the Great Depression. Many looked to Alaska as a new beginning, the Last Frontier. Many wanted to come and start new lives for themselves and their families. In 1935 around 203 families reeling from the Great Depression were relocated to Alaska with the promise of a better life.
Families that had moved to the State of Alaska began forming colony's, where people would live, farm, etc. The Matanuska Colony was one of more than 100 New Deal projects created by President Franklin D. Roosevelt in an attempt to end nationwide unemployment and help Americans rebuild their lives. Many descendants of the original colonist remained in Alaska and some are operating original colony farms today.
Alaska has an extraordinary growing season with fertile soil and 19 hours of summer daylight. The size of the produce can be unbelievably big. The giant size of some vegetables have become the area's trademark, especially at the Alaska State Fair. At the Alaska State Fair you will the the world record cabbages, pumpkins, etc being weighed each August.
In summer, come and gaze your eyes on the largest and freshest veggies in Alaska at the Farmers Markets many locations!! Show up to the Dorothy Page Museum on Wednesdays, 12-6 pm. The Museum is located on Main Street and is a Historic Site for this Wasilla, Alaska town. One day a week at the Palmer Depot, you will have the opportunity to buy great local products like breads, eggs, handmade soaps, fresh veggies, meat, honey and much more every Monday from 11am-7pm until May 19, 2014.
Local vendors and their locations may vary each week, but expect to find produce, jams, fresh bread, flowers, arts and crafts and much more! On the Kenai Peninsula? Look for Farmers Markets coming to your Kenai Real Estate area!!