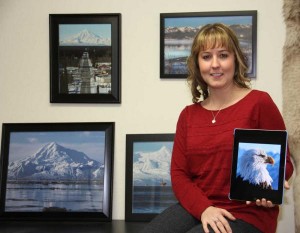 Feed your soul daily with aesthetically pleasing photographs taken in the beautiful state of Alaska & beyond. Photos are healthy for body, mind & spirit.
We can all agree that Alaska is simply breathtaking. Often I find myself pulling over to take pictures of the sunset taking place behind the mountains. Every sunset is unique, different, and thats what I love about Alaska. What is it that you love about Alaska? Mountains, outdoors, the ocean, fishing, the wildlife, glaciers? Pictures are a great way to capture the uniqueness of Alaska and there are many local photographers and artists who dedicate their work to doing so. 
Alanna Allen is an amateur photographer who lives in Sterling, Alaska. She devotes her time to capturing the uniqueness all of Alaska has to offer. Her growing passion for photography has inspired her to not only share photographs but also strive to capture and display photos that her audience will enjoy. 
"I like to think 'outside the box' and do things a little differently. Sometimes I may mix photography, art & graphic editing to create a portrait," the photographer states. "I gravitate more toward scenic photos but lately there have been some nice human and pet models who have allowed me to photograph them. Please visit my Free Spirit Photography Facebook page to view other photos that are not displayed here www.facebook.com/AKFreeSpiritPhotography."
(Photo courtesy of peninsulaclarion.com)
To check out whats happening on the Kenai Peninsula click HERE.