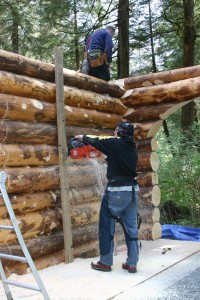 Robert Chambers, one of the most famous log cabin builders in the world, will conduct a log construction workshop in Nenana.
The University of Alaska Fairbanks School of Natural Resources and Extension is working with the Toghotthele Corp. in Nenana to offer the workshop to corporation members and the public. The work site is 307.8 Parks Highway, near Nenana, Alaska. The end result will be a 16-by-20-foot cabin that Toghotthele might auction off to the highest bidder.

The workshop is for people interested in building high-quality, energy-efficient log structures in Alaska.
Chambers has been building log homes since 1983 and teaching log construction since 1988. He is the author of the best-selling log home construction textbook and DVD, Log Construction Manual, and the inventor of log construction methods, products and machinery. He holds U.S. and foreign patents for his log construction inventions. Find out more at www.logbuilding.org.
May 1, 2014 – 1:30pm to May 23, 2014 – 1:30pm
For events taking place on the Kenai Peninsula click HERE.