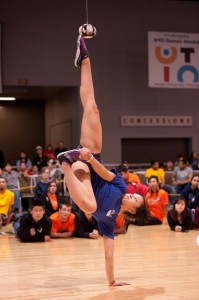 Each year, more than 2,000 students from more than 50 communities across the state of Alaska participate in the NYO and JNYO Games. Anywhere from Barrow, Juneau, Anchorage, Wasilla and even the Kenai Peninsula. Games are based on skills critical to traditional Alaska Native lifestyles. Formerly known as the Native Youth Olympics, the competitions include the two-foot high kick and the one-hand reach and seem to defy gravity and physics. The games test hunting and survival skills, the balance of mind and body, as well as strength, endurance and agility.
Started in 1972, the NYO Games, includes 10 events based on games past generations of Alaska Native people played as a way to test their hunting and survival skills, increase strength and maintain endurance, agility and the balance of mind and body. The Eskimo stick pull, for instance, is based on a strengthening exercise that Native hunters would do to prepare themselves for pulling seals out of the water. Although events are based on traditional Alaska Native activities, the competition is open to all Alaska students from seventh to 12th grade, regardless of ethnicity. Smaller schools on the Kenai Peninsula are encouraged to have kids participate.
This year's games will be held April 24-26, 2014, in the Dena'ina Civic and Convention Center. Admission is free, so check it out and cheer on the athletes. It's an exciting time; in recent years decades-old records have fallen. If you are unable to make it to Anchorage for the NYO games,  the Alaska Native Heritage Center has regular demonstrations of Alaska Native games several times daily through out the summer.
Dena'ina Civic and Convention Center, Anchorage
The Senior Games are open to all Alaska students in grades 7–12. Participation is limited to one boy and one girl athlete per event, per school.
Click HERE to check out what's happening on the Kenai Peninsula, Alaska.