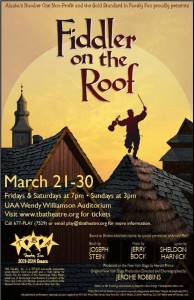 Join us at the Wendy Williamson Auditorium for the Fiddler on the Roof!! Show is presented by TBA Theatre and directed by Erin Mitchell.
TBA Theatre company's production of Fiddler on the Roof, the award-winning musical that has captured the hearts of people all over the world with its universal appeal, opens March 21 at 7:00pm at UAA's Wendy Williamson Auditorium and plays Fridays-Sundays through March 30.
Humor, warmth and honesty are the heart of this Tony Award-winning, musical favorite. In the little village of Anatevka, Tevye, a poor milkman, must weigh his family's happiness against the traditions that have preserved a way of life in his village. He tries to instill in his five daughters the traditions of his tight-knit Jewish community while outside influences encroach upon their lives. Among the traditions of the Jewish community, the matchmaker named Yente is to arrange marriages with the end approval of the father. Lazar Wolf, the wealthy butcher wants to wed their eldest daughter and Tevye must be persuaded to meet Lazar to arrange the marriage. The girls seem They are poor, so their parents will have no choice but to take whatever husband Yente the matchmaker brings. The eldest daughter Tzeitel is not eager to have a match found for her, as she is already in love with the tailor, Motel Kamzoil, her friend since childhood. His daughters want to marry for love rather than an auspicious match. and outside forces threaten everything he holds dear, but family and faith help see him through in a changing world. Action, Comedy, Drama, Love, Family Lessons and More!! You don't want to miss out on this fantastic show.
This full length musical is approximately 2.5 hours long including intermission.
Performances are Friday, March 21st- Sunday, March 30th and includes a weekday matinee for school audiences.
 Week one:
Fri March 21: 7pm
Sat March 22: 7pm
Sun March 23: 3pm
Week Two:
Fri March 28: 10am & 7pm
Sat March 29: 7pm
Sun March 30: 3pm
Tickets can be purchased online or call (907) 677-7529 for more information.