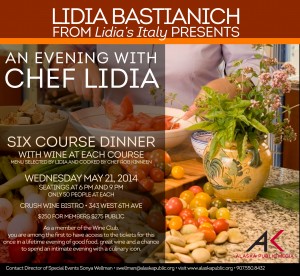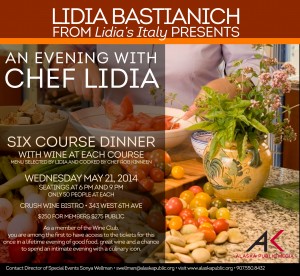 Get hungry people, because Chef Lidia from Lidia's Italy on PBS and The Create Channel is coming to Alaska to have a dinner with you!! Dinner will be on Wednesday, May 21 at 9 p.m at the Crush Wine Bar & Bristro. There is a 6:00pm dinner time but it has been sold out. This will be a 6-Course Dinner, with wine for each course. The Menu designed by Lidia herself and cooked by Chef Rob Kinneen. Join us for this once-in-a-lifetime evening of good food, great wine and a chance to spend an intimate evening with a culinary icon. There will be only 50 people at each seating. This is a benefit for Alaska Public Media. Tickets are $250.00 a person for members, $275.00 for non-members.
Event will take place at 343 West 6th Avenue, Anchorage, Alaska.
For more information please call (907)-550-8432 or visit http://www.alaskapublic.org/join-alaska-public-media-for-an-evening-with-lidia/
For more activities on the Kenai Peninsula click HERE.